Virtual remote allows you to control mce from another pc
Created by Ryan Tollefson it allows me to control my Stereo & TV system via Smartnav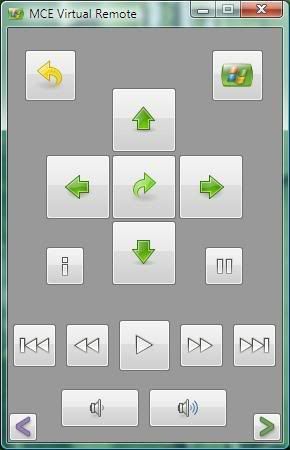 I should describe our lounge room set up the TV is connected to a computer that has Microsoft Media Centre (mce) on it & I sit in the opposite corner with my Notebook on an old monitor stand. Why is so good, at lest for me, I contracted motor neuron disease (mnd/als) a few years ago. About November 2006 I found I could no longer type or use the Remote. So I use Smartnav in dwell click mode with and a silver dot my modified sunglasses (I�ve taken the lens out) with the Click & Type virtual keyboard & Dasher to write longer stuff & to help me talk.
Installation -- you install the server part (Virtual Remote Server.exe) on the mce box and load up the server program on the mce user account that you use to watch tv by putting that into the startup folder. I had to allow it through windows firewall. Put the virtual remote program on the pc you want to control mce with. Put it in its own folder as its not a very clean Installation program. It has not affected my termsvr.dll patch machine or the way I login.
This is beta v0.18 which has more than one mce server available by right clicking, I only have one mce system so I can�t comment on that bit.
Get here
http://ryansfindings.com//MCEVirtualRemote.zip
I had been look at remote control software for an old PDA and using a type of remote desktop to the PDA via usb, it was all crapy, now I can use my mce again. I have to tell you how important this is, Being 45 year old male, I was left home alone the other day (bliss) but I can no longer use the mce remote or the mce keyboard anymore and DR Phil came on, I wasn�t able to change the channel or even turn it off. I learnt if I was a 50 year old woman and have a 25 year old son I shouldn�t bring 30 year old one night stands home. I suppose I should be grateful it wasn�t a vacuum cleaner add or ���
Cheers Steve
Reference web sites.
http://sourceforge.net/projects/mcecontroller
http://kindel.com/blogs/charlie/arch...2/26/1436.aspx
http://thegreenbutton.com/forums/1/1...howThread.aspx